Crash stock: Global Tech 0 comments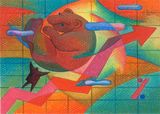 (P.S: Sorry for any disturbances the advertisements above may have caused you)
Since today's papers put the financial woes of this SGX-listed Hong Kong company back in focus since it was suspended from trading more than a year ago, I thought I would write about the story of this stock. It is a very interesting tale indeed, and the whole sequence of events has transpired just over these couple of years.
Global Tech was a leading distributor of Motorola, Nokia and in particular Samsung mobile phones in China, already the largest mobile phone market in the world by 2002. Its revenues had increased steadily from HK$2B in 1997 to HK$4B by 2001, with rising margins propelling bottomline from
HK$500M in the same period. Valuation-wise, by 2002 it was selling at 4 times trailing PE, seemingly a great bargain given the earnings performance over the past few years.

It turned out to be the classic example of why investors should not catch a falling knife. The share price had dropped from S$0.20 (split-adjusted) in 2000 to $0.10 by mid-2002 despite the strong performance and high dividend yield of 8%. In early 2002 the company's chairman was reported to have been arrested in Guangzhou for tax evasion, which he later admitted to and had to step down from his Global Tech positions to be taken over by his brother Timothy. He was also charged with misstated sales in two of his privately- controlled companies.

By early 2003, before the release of their FY02 results, Global Tech was trading at 2 times PE and a remarkable 18% dividend yield, at a price of 5 cents. Then the bombshell dropped. In the released FY02 results, topline had grown to HK$5B but bottomline had shockingly reversed to a loss of HK$200M; there was also a restatement of FY01's profits reducing it by HK$100M. The company explained that massive provisions had to be made for doubtful debts and slow-moving inventory, amounting to an amazing >HK$200M each.

Things have deteriorated rapidly since then. Global Tech had several changes of auditors, reported another dismal set of results for FY03 with continuing losses and with revenues dropping as well. The company voluntarily suspended trading in 2004 when a number of their board members resigned and it claimed that time was needed to find replacements. Since then it has not resumed trading. The last traded price was about 1-2 cents.

The Global Tech episode clearly illustrates the importance of management integrity and transparency. Global Tech continually denied the truth of reports about its chairman being in litigation trouble, and the massive provisions in FY02 suggested that its probable overstatement of profits in previous years had finally caught up with it. The fact that auditors had to be changed several times and that non-executive directors resigned subsequently in 2003-04 also signalled deep problems within top management.

Why do I sound so familiar with the stock? That is because I was vested in it and luckily bailed out (with big losses) before it got suspended. To me it was another costly lesson not to be tempted by extraordinarily low valuations, and to have respect for how the market values stocks; it was another manifestation of the fact that generally, the Efficient Market Hypothesis does assert itself. If a stock is low-priced and continues falling, it could be pricing in some adverse news that might not yet have been made public and the investor should not plunge in just because it "looks cheap".