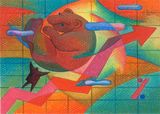 (P.S: Sorry for any disturbances the advertisements above may have caused you)
I decided to research and document the history of this company/stock after reading an online discussion about a certain prominent member of the local property industry and his version of his involvement with L&M in the 1990s. Its history is chequered, and the more I read, the more intrigued I became. It is the perfect example of a political stock gone wrong.
L&M was a prominent structural engineering firm in the 1970s and 80s, and listed on the then SES (predecessor of SGX) in 1983. L stands for Paul Lim, M for Richard Mulholland; they were the two prime drivers of L&M as it continued to expand market share into the 1990s, when they started to diversify into property development and investments. When Guthrie GTS mounted a takeover of L&M Group Investments in the early 1990s, it was a local construction giant with overseas projects in ASEAN and Asia turning over >$200M per year. Profits were razor-thin though, at about $1-2M per year. Nonetheless, the founders exited the scene with good money as new management came onboard and a new chapter began.
The insipid earnings performance continued under Guthrie for the next few years, even as turnover continued to grow to >$400M by 1995. Share price accordingly hovered around the $1 mark, though during the great bull run of 1993-94 it reached nearly $2. Then in late 1995 ownership changed hands again.
In the 1990s the kingpin of ASEAN was Indonesia. Under President Suharto the system of patronage, later derided as crony capitalism, was booming, and Indonesia was minting millionaires out of those with close ties to the ruling elite. Singapore was a natural destination for these rich Indonesians to park their wealth. A 1996 Asiaweek article details the companies that became Indonesian vehicles then:
As seen in the table, L&M was acquired by an Indonesian consortium led by Johannes Kotjo, former CEO of the Salim Group, with Bambang Trihatmodjo - the elder son of President Suharto - also being one of the shareholders. The buy-in price was close to $4 --- a level that would never be seen again.
There was much hope that the Suharto ties would bring big fat contracts from the Indonesian government, but earnings post-acquisition never really took off and the effect was that share price soon went south to half the acquisition price by 1997. That was still not too bad because the emerging markets of Asia were firing on all cylinders then, and the general market was buoyant and relatively forgiving, especially towards market darlings with strong political links (and hence growth prospects, it was assumed). In early 1997 the Soeryadjaya family took over control of L&M, with the former owners exiting at a big loss. Next better (Indonesian) player.
You have to say that the Soeryadjayas, they who lost the Astra empire in the early 90s, really seem to be cursed with bad luck. The troubles at L&M really began, as with so many other construction/property companies at that time, with the 1997/98 Asian financial crisis. For years, L&M had been operating on high leverage; by 1997 its short-term loans equalled equity funds and interest expense was nearly half of operating profit. Thus when the Asian currencies took severe haircuts during the crisis the balance sheet liabilities suddenly ballooned.
The company faced problems refinancing its loans, which it kept having to extend month by month. To compound its issues on hand, it faced legal suits and claims during this period for certain overseas construction projects amounting to tens of millions of dollars. In 1998, it was forced to make provisions and writedowns amounting to $50M, and wound down its property and infrastructure division. In mid-1999 the company appointed an advisor to restructure its loans; there were questions whether the company could continue as a going concern. The share price sank to below 25 cents at the bottom (1998).
True to its past history, the market fortune of the stock, in contrast to its actual operational performance, did a revival again in late 1999. Again, its revival was tied to political developments in Indonesia. Abdurrahman Wahid was the new Indonesian President, and the Soeryadjayas had long had business ties with him. By fair means or foul, L&M was chosen as the company to develop and manage Cybercity in Jakarta, Indonesia's answer to Malaysia's Cyberjaya, Hong Kong's Cyperport (under Richard Lee's Pacific Century), and of course USA's Silicon Valley. L&M was poised to become the top IT and Internet infrastructure player in Indonesia. Those who have been through the dot-com mania of 1999-2000 would understand the impact of such a possibility on investors' imaginations, even when the company involved was still in the midst of a loan restructuring process. The stock jumped from $0.60 to $1.50 in 3 months to January 2000, as even veteran investors started to buy into the idea of it being the beneficiary of Indonesian political connections both current and future. This was further reinforced by the entry of Bambang Sukmonohadi as a shareholder; Bambang was then Vice-President Megawati Sukarnoputri's father-in-law. Rumours swirled of Microsoft, Lucent, Singtel, PCCW joining L&M in the Cybercity development, further reinforcing investor optimism.
Unfortunately the dot-com mania ebbed at the turn of the millenium, and with it the plans for Cybercity mysteriously died away. There had been some stock sales by insiders in the meantime. However, the company managed to keep itself in the public eye over the next 1-2 years, with the announcement of deals many of which never materialised: plans to list L&M's geotechnical division; plans to buy Singapore-listed Van Der Horst, Presscrete, Link Islands and Malaysia-listed Mitrajaya that were all later cancelled; several agreements in Indonesia, including a joint venture to promote and build a mass rapid transit transport system in Jakarta, a letter of intent to supply and purchase sea sand (from Indonesia to Singapore); acquisition of infrastructure assets of Van der Horst (this one materialised). In the midst of all this, it was indeed impressive that the company still found time to make losses of $30M in FY00 and then follow up with an even more impressive loss of $70M in FY01.
By 2001, despite all the huffing and puffing by the enterprising and publicity-savvy L&M management, the share price had dropped to $0.20 under the weight of the bone-crushing losses. With its financial situation rapidly deteriorating and credit facilities tightening, the company found it difficult to deliver on existing contracts as it was unable to pay workers. By 2003, the company had undergone a series of recapitalisation exercises that ballooned its outstanding shares. By then, the company had run up a shattering total loss of $200M over 2000-03. By 2004, L&M was trading at 1 cent as it entered into one of its last placement/debt restructuring exercises that saw outstanding shares balloon to nearly 9 BILLION shares. In 2005 the stock was suspended and the suspension has not been lifted since. The company's profitable assets have since been taken over (eg. geotechnical/piling assets by CSC) and it is difficult to see shareholders recovering any significant value back from the company from here, even if it undergoes an RTO.
The company started from a strong position in a strong industry in the early 1990s, and had luminaries like Albert Hong (venerable chairman of RSP Architects) sitting on its board. It then degenerated into a heavily politicised stock under the Indonesians, and its operations never fully recovered from the Asian crisis. Speculators were attracted to its multi-bagging ability that often happened in short spurts (1995, 1999-2000) as well as the political connections associated with its key shareholders; however circumstances have developed such that political stocks have come in for the worst mauling simply because the crony capitalism practised by Indonesia has toned down (mind you, it has never disappeared) after Suharto was overthrown. Companies that hope to profit from economic rent-seeking and do not focus enough on core competencies and operating leanness can easily lose focus; similarly stocks that are based on concept but have little grounding in real profitability will eventually crash to earth.
References:
(1)
Shareinvestor.com archives on L&M