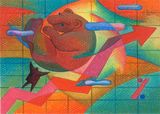 (P.S: Sorry for any disturbances the advertisements above may have caused you)
In the early 1990s Amcol was one of the semi-blue chips on the buoyant Singapore stock market. A CPF trustee stock (ie. a recommended stock for Singaporeans to put their retirement money into), positioned in the booming sector of electronics (distribution of Sony, Aiwa and Funai products), boasting revenues in excess of S$700M and profits between S$30-50M, with a long history of listing (since 1969), it was not hard to see why it was one of the investors' favourites.
It became a speculators' favourite as well between 1994-95, often a danger sign because optimism tends to rise with prices for such stocks, ultimately pricing in all the potential upsides and none of the risks. It was at the centre of a number of takeover deals by Indonesians, the prevailing trend of the mid-1990s when rich Chinese Indonesian businessmen were looking to diversify their assets to safe havens like Singapore. The share price was driven, often upwards, by such incessant newsflows and perceived prospects of future Indonesia deals, quite similar to Unifiber, another punter's favourite in our current generation. Incidentally, there is a connection between these two companies: Kang Hwi Wah, revealed as a dealmaker for Unifiber recently, was the founder and main shareholder of Amcol.
Kang was arrested for corruption in 1991 and jailed in 1994, but the stock did not crash despite his conviction. Over the years 1991 to 1994, Amcol continued to make pre-tax profits of between S$30-50M on steady revenue of S$700-800M, and acquired a new key shareholder, Hong Kong property giant New World group. The latter helped Amcol to diversify into property deals in Asia, which Kang helped to drive until his conviction in 1994.
The true speculative interest in Amcol commenced when in 1995 Kang, upon his release from jail, sold 17% of his total 24% stake in Amcol to Henry Pribadi, a close associate of President Suharto and Liem Sioe Liang, Indonesia's richest businessman. Then in early 1996, he sold another 6% stake to a company run by local businessman Lee Howe Yong and Indonesian-born executive Sukamto Sia, another Suharto associate. Although New World exited in 1995, the new Indonesian shareholders were perceived to be able to bring strong connections and business deals to the Amcol group; as we all know, relationships were what mattered in the Suharto era for doing business in resource-rich Indonesia. One must also remember that in 1995, there was tremendous market interest in the migration of Indonesian assets to Singapore, a trend driven by a sudden realisation by rich Indonesian businessmen of the need for risk management as political and social turmoil in Indonesia brewed (an example was the 1994 Medan riots), and which finally culminated in the collapse of the Suharto regime as the 1997 financial crisis proved the last straw.
The speculator interest kept the company's stock on high footing, at between $3 to $5, a total market cap of close to 1 billion, and a forward PE of above 20, comparable to the average SES (now SGX) market PE of 22. That put it on a similar pedestal with blue chips which typically trade at this PE range.
Things began to unravel in 1996. The new Pribadi-controlled management hired Merrill Lynch to review operations
after
the Amcol stake was bought, a strange move since it defeats the purpose of due diligence
before
buying. The findings were not exactly encouraging, revealing critical flaws in the company's operations and balance sheet that could not be easily repaired.
To add to the troubles, there was an inevitable boardroom struggle for management control between the various Indonesian shareholders. Presumably as a result of this politicking, some Pribadi-appointed directors approached the stock exchange about alleged irregularities, triggering the beginning of the end: Price Waterhouse were appointed to make investigations, CAD was activated, Amcol was suspended from trading.
The investigations revealed the full picture that the Merrill Lynch review may only have skimmed over: and it was not pretty; an insider commented that "Whoever was on the throne raped the company". To quote examples of "gross mismanagement, incredibly bad deals and dismal accounting" that surfaced from the investigations: (1)An electronics subsidiary sold goods at a loss to Funai, which resold them to another Amcol firm at a 12% profit; (2)The group bought into a loss-making power plant in China's Guangdong province, which has surplus electricity; (3)In Indonesia, an associate firm could not adequately document a supposed investment in satellite broadcaster Indostar, for which Amcol advanced $8.5 million. Worst of all, the company was now insolvent: it needed S$70M to meet debt payments, and all of its $800M assets might be required to cover obligations. Price Waterhouse declared that Amcol's shares were "nearly worthless", and the company was placed under judicial management.
Eventually, it took another Indonesian conglomerate to clean up the mess. In 1997, Sinar Mas, Indonesia's third largest conglomerate, acquired Amcol from its key shareholders and renamed it AFP Land, a subsidiary of Asia Food and Properties which is listed on the SGX today. The deal effectively valued Amcol at ~S$1.30 a share. The previous Indonesian shareholders had made a big loss. Pribadi, for example, had bought in his stake in Amcol for about $5 a share.
One must admire Kang Hwi Wah for his excellent sense of timing in selling off nearly his entire stake in Amcol, at the end of the day. Anyone, Unifiber?
References:
(1)
Asiaweek article: The "Rape" of Amcol
(2)
Asiaweek article: Singapore Spree
(3)
Business Times article: Amcol & Henry Pribadi