The 10 worst stock market crashes in U.S. History 17 comments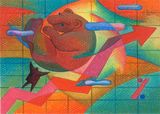 (P.S: Sorry for any disturbances the advertisements above may have caused you)
In the midst of the three-year bull market that everybody around the world has been enjoying, it is worth getting a perspective of the kind of losses that are possible on the stock market. Most of the 10 crashes below happened over more than one year rather than in short durations (such as the
1987 Black Monday
) but were no less painful for those involved. In fact, slow deaths are often more painful. The ranking and data were obtained from a financial article on About.com titled "
Worst Stock Market Crashes
" written by Dustin Woodward, and considers only those stock market crashes after 1900. A trivial noted by the author: 6 out of the top 11 crashes started in either September or November.
Some personal notes about the crashes:
1) It is interesting to note that all but two of the 10 most severe crashes happened in the early part of the 20th century, which suggests that either the economy has acquired more sophisticated self-correcting mechanisms or that the Federal Reserve's economic management has worked well in recent times.
2) 5 of of 10 have been in periods leading to war, during war and even after war (1919-21), with another (2000-02) at least partly due to imminent and limited war (terrorist, Iraq). Political problems weigh heavy on the market more than anything else.
3) Two of the four most severe crashes have been linked to the Great Depression, and there was a whole 2 decades where a secular bear haunted the economy. This is the kind of long-term gloominess that can kill off the spirit of the last bulls.
For those who think this is an inauspicious article, read no further.
10th Worst Stock Market Crash: 2000 - 2002
Key events: Tech bubble bursting, September 11th terrorist attack
Date Started: 1/15/2000
Date Ended: 10/9/2002
Total Days: 999
Starting DJIA: 11,792.98
Ending DJIA: 7,286.27
Total Loss: -37.8%
9th Worst Stock Market Crash: 1916 - 1917
Key events: US being drawn into World War 1
Date Started: 11/21/1916
Date Ended: 12/19/1917
Total Days: 393
Starting DJIA: 110.15
Ending DJIA: 65.95
Total Loss: -40.1%
8th Worst Stock Market Crash: 1939 - 1942
Key events: World War 2, attack on Pearl Harbor
Date Started: 9/12/1939
Date Ended: 4/28/1942
Total Days: 959
Starting DJIA: 155.92
Ending DJIA: 92.92
Total Loss: -40.4%
7th Worst Stock Market Crash: 1973 - 1974
Key events: Vietnam war, Watergate scandal
Date Started: 1/11/1973
Date Ended: 12/06/1974
Total Days: 694
Starting DJIA: 1051.70
Ending DJIA: 577.60
Total Loss: -45.1%
6th Worst Stock Market Crash: 1901 - 1903
Key events: Assassination of President William McKinley; a severe drought causing alarm about US food supplies
Date Started: 6/17/1901
Date Ended: 11/9/1903
Total Days: 875
Starting DJIA: 57.33
Ending DJIA: 30.88
Total Loss: -46.1%
5th Worst Stock Market Crash: 1919 - 1921
Key events: Followed a post war boom, bursting of the first big tech bubble- the automobile sector (but after bottoming, this decade saw tremendous growth in the stock market and the economy, often called the roaring twenties)
Date Started: 11/3/1919
Date Ended: 8/24/1921
Total Days: 660
Starting DJIA: 119.62
Ending DJIA: 63.9
Total Loss: -46.6%
4th Worst Stock Market Crash: 1929
Key events: End of the roaring twenties, and kicked off the Great Depression
Date Started: 9/3/1929
Date Ended: 11/13/1929
Total Days: 71
Starting DJIA: 381.17
Ending DJIA: 198.69
Total Loss: -47.9%
3rd Worst Stock Market Crash: 1906-1907
Key events: The "Panic of 1907" due to a credit crunch in New York, as well as gloom due to President Roosevelt's antitrust drive
Date Started: 1/19/1906
Date Ended: 11/15/1907
Total Days: 665
Starting DJIA: 75.45
Ending DJIA: 38.83
Total Loss: -48.5%
2nd Worst Stock Market Crash: 1937-1938
Key events: Legacy of Great Depression, war scare and Wall street scandals
Date Started: 3/10/1937
Date Ended: 3/31/1938
Total Days: 386
Starting DJIA: 194.40
Ending DJIA: 98.95
Total Loss: -49.1%
Worst Stock Market Crash: 1930-1932
This is the grand daddy of them all. Investors lost 86% of their money over this 813 day beast. This market crash combined with the 1929 crash, makes up the
Great Depression
.
If you had $1000 on 9/3/1929 (beginning of the 4th worst crash, it would have gone down to a whopping $108.14 by July 8th, 1932 (end of the worst crash) or an 89.2% loss. To recover from a loss like that, you would have to watch your portfolio go up 825%! The full recovery didn't take place until 1954, 22 years later!
Date Started: 4/17/1930
Date Ended: 7/8/1932
Total Days: 813
Starting DJIA: 294.07
Ending DJIA: 41.22
Total Loss: -86.0%
References:
(1)
About.com: The 10 worst stock market crashes in US history
(2)
BBC News- Bear Markets: Wall Street's Worst